Top Quality  German Shepherd Dogs For Sale
Click Here To See Our Puppy Litters
Lundborg-Land has puppies and sometimes older German Shepherd dogs for sale at our California kennels.   This page represents our available older dogs.
We also provide relocation services for all our clients dogs to make sure Lundborg-Land dogs always have good homes. We take pride in finding these good homes for all Lundborg-Land German Shepherds!  Visit us and spend some time with these beautiful dogs that would just love a new home.
Please call for details (951) 443-4318:
Please click on the dog you are interested in to learn more about them.
O-Duke vom Lundborg-Land
We also have a
six year old neutered male
for sale, Duke is obedience trained, house trained, crate trained, currenton all shots. This guy is a big boy, extremely lovable to people and kids. He is not good with little dogs, but probably would be ok with a larger female.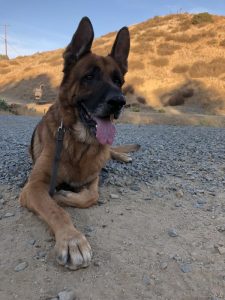 Quinie vom Zellergrund
Quinie is an almost 8 year old spayed female, German Import, house trained, crate trained.  Quinie has some ob training, she is a "soft" dog and would be good with male dogs.  All shots, H & E are good. DM Free
Zady vom Lundborg-Land, 10 year old spayed female, current on all shots and recent dental cleaning. Zady (Kady) is a wonderful Urban daughter, who can be with an older male dog. Kady is a dog who wants to be in the house only, if she is not in the house she would like to be in a regular 6 x 10 outside kennel.  No little male dogs or female dogs. Kady is good with kids. The picture below is not a current photo.