Top Quality  German Shepherd Dogs For Sale
Click Here To See Our Puppy Litters
Lundborg-Land has puppies and sometimes older German Shepherd dogs for sale at our California kennels.   This page represents our available older dogs.
We also provide relocation services for all our clients dogs to make sure Lundborg-Land dogs always have good homes. We take pride in finding these good homes for all Lundborg-Land German Shepherds!  Visit us and spend some time with these beautiful dogs that would just love a new home.
Please call for details (951) 443-4318:
Please click on the dog you are interested in to learn more about them.
Nagila vom Lundborg-Land
Nagila is being offered for adoption to the right owner. Nagila (Nina) is a long hair female. She is not good with dogs or cats. She would be great as a personal protection dog for a woman!
We also have a one year old male for sale, he is obedience trained, house trained, crate trained, current on all shots.
Izzy Bear vom Lundborg-Land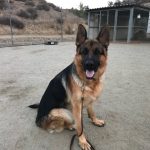 Eden is a beautiful long hair female from the Ken X Ziggy litter, she is for sale!.