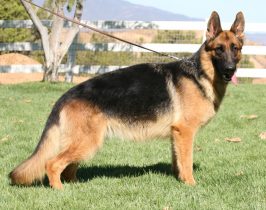 Layla vom Lundborg-Land, "a" H & E, DM n/n
Layla vom Lundborg-land, "a" normal & DM Free Layla is a very typey female from solid 100% German lines.  She is beautiful and has an unusual dark saddle.
Make your puppy deposit below!
All pick positions are a reservation based on how many puppies are actually produced from the litter. Deposits can be forwarded to the next available litter.