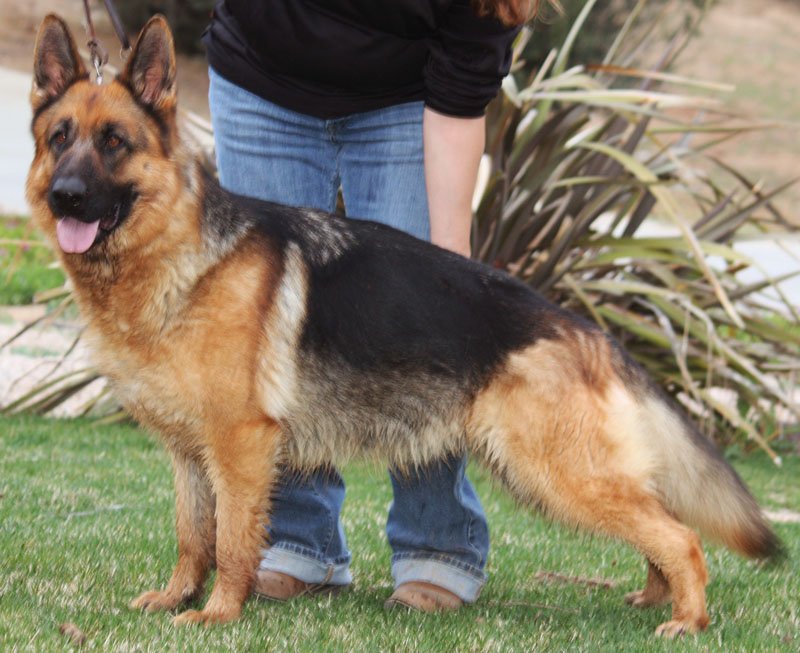 Ziggy vom Lundborg-Land, "a" normal, DM Free
It is time to retire Ziggy, she is an 8 year old and still very active.  Spayed.   A little reserved around new people, but gets the hang of it after she knows you.  Will bark at strangers.
Ziggy is an active female with beautiful coloring and attitude.  She always catches your eye because she is so stunning.   She is a favorite  of our customers.
Ziggy vom Lundborg-Land

Ziggy vom Lundborg-Land's Pedigree
First Generation
Sire: SG Rondo vom Haus Röhner
"a"
Dam: Ora vom Lundborg-Land
"a"
Second Generation
Sire: VA Labo vom Schollweiher
SCHH3, IPO 3, KKl 1 "a"
Dam: V Paula vom Haus Röhner
SchH 1 KKl 1 "a"
Sire: VA Ingodds Albert
SchH 3, KKl 1 "a"
Dam: V Tessy von der Kupferhalde
SchH 1 KKl 1, "a'
Third Generation
Sire: VA Arex von der Wilhelmswarte
SchH3, KKl 1, "a"
Dam: V Fraya d' Ulmental
SchH 1, KKl 1, "a"
Sire: VA Panjo vom Kirschental
SchH 3, KKl 1, "a"
Dam: V Ebby von der Roten Matter
IPO 1 KKl 1 "a"
Sire: VA7 Ghandi von Arlett
SchH 3 KKl 1, "a"
Dam: V Ingodds Nodessa
SchH 1, KKl1 "a"
Sire: V Xandor v. Fortunahof
SchH 3 KKl 1 "a"