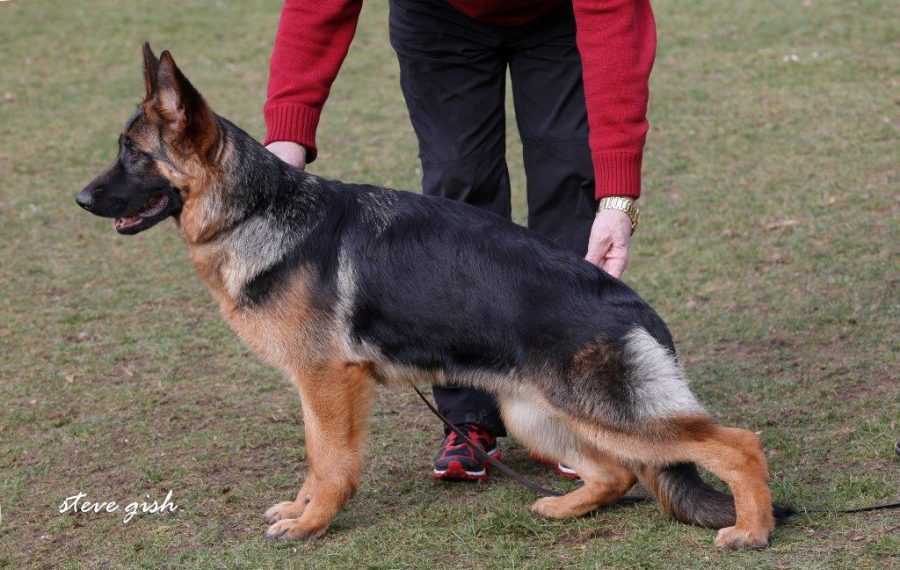 Carlotta vom Messebau, 6.5 year old spayed female, IPO 1, hips and elbows "a" normal , DM free. Now for sale! Her call name is "Charlie". She is not good with female dogs, good with male shepherds.
High energy, high drive. For the experienced German Shepherd owner only please!
Please call (951) 443-4318 for details.
V Carlotta vom Messebau's Pedigree
First Generation
Sire: VA Leo von der Zenteiche
IPO 3,KKl 1, "a"
Dam: V Nanja vom Messebau
SchH 1, KKl 1, "a"
Second Generation
Sire: VA Furbo degli Achei
SchH 3,IPO 3 KKl"a"
Dam: V Yanka von der Zenteiche
SchH 2, KKl 1 "a"
Sire: VA1 Arak de la Ferme Malgre L'eau
SchH 3 KKl 1, "a"
Dam: V Xenia vom Messebau
SchH 2, KKl 1,"a'
Third Generation
Sire: VA Quenn vom Loher Weg
SchH 3 IPO3,FH1,KKl 1, "a"
Dam: VA Fenia degil Achei
SchH 2, KKl 1, "a"
Sire: VA Yukon von der Bastillie
SchH 3, KKl "a"
Dam: V Pola von der Zenteiche
SchH 2, kkl 1″a"
Sire: VA Zamp vom Thermodos
SchH 3 KKl 1, "a"
Dam: VA Tendrina de la Ferme Malgre L'eau
SchH 3, kkl1 "a"
Sire: V Quentin Karanberg
SchH 3,KKl 1 "a"