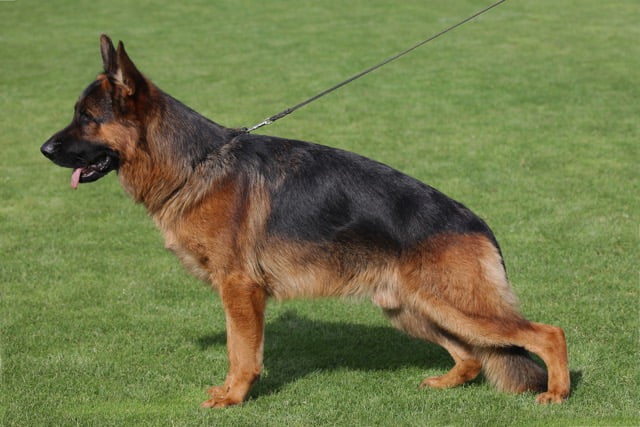 DOB:  1/6/2015 – 8 Years Old – We are ready to retire this outstanding stud and place him in a perfect home!  Placement will be selective.
SG Isko il Mercabah, IPO 1 "a" normal H & E
Isko is a VA-Ken vom Team Baierblick son who was born in Italy from Quantana vom Fichtenschlag. He was then imported to Germany and since imported to the USA. Isko has one of the best & even temperament for the studs. He is very clear in the head.
SG-Isko il Mercabah

SG Isko il Mercabah's Pedigree
First Generation
Sire: VA Ken vom Team Baierblick
SchH 3, KKl 1, "a"
Dam: V Quantana vom Fichtenschlag
SchH 2, KKl 1, "a"
Second Generation
Sire: VA Quattro von der Partnachklamm
SchH 3, KKl 1 "a"
Dam: VA Fenja vom Team Baierblick
SchH 2 , KKl 1 "a"
Sire: VA Odin vom Holtkamper Hof
SchH 3, KKl 1 "a"
Dam: VA Tiana vom Fichtenschlag
SchH 3, KKl 1, "a'
Third Generation
Sire: VA Zamp vom Thermodos
SchH3, KKl 1, "a"
Dam: V Ora vom Müdesheimerland
SchH 2, KKl 1, "a"
Sire: VA Euro von Media
SchH 3, KKl 1, "a"
Dam: V Hanka vom Müdesheimerland
SchH 1 , KKl 1 "a"
Sire: VA Yak vom Frankengold
SchH 3 KKl 1, "a"
Dam: V Riska vom Holtkamper See
SchH 3, kkl1 "a"
Sire: V Wilko vom Fichtenschlag
SchH 3,KK 1″a"